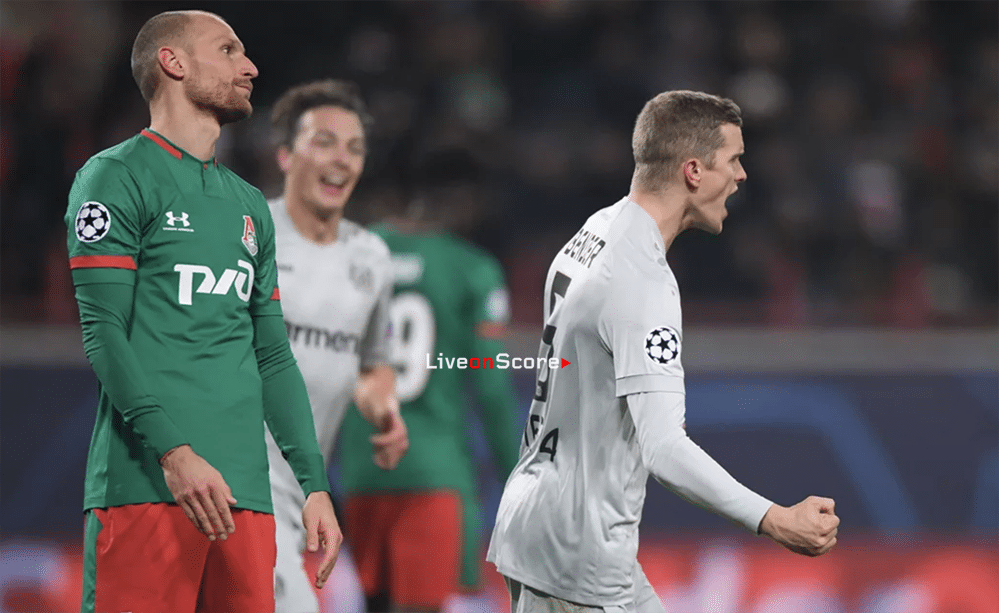 Bayer Leverkusen secure Europa League football as a minimum after Moscow win
LiveonScore News, 2 years ago
11 min

read
Bayer Leverkusen can look forward to playing European football in the new year after winning 2-0 away to Lokomotiv Moscow, but will have to wait and see whether it will be in the UEFA Champions League or Europa League.
Lokomotiv Moscow 0-2 Bayer Leverkusen
Goals: 0-1 Zhemaletdinov (o.g. 11′), 0-2 S. Bender (54′)
Needing a win to keep their Champions League campaign alive, Bayer survived an early scare when brothers Anton and Aleksei Miranchuk miscued and had an effort ruled out for offside respectively. Lukas Hradecky fumbled from Grezegorz Krychowiak moments later, but the ball dropped wide before Rifat Zhemaletdinov inadvertently put past his own keeper following a devilish corner to give Leverkusen a fortuitous lead. Hradecky atoned for his earlier gaffe with a fine stop from Anton Miranchuk, though Leverkusen should arguably have added to their first-half lead after chances game and went for Karim Bellarabi, Kevin Volland and Leon Bailey.
Bayer gave themselves breathing space soon after the restart when Sven Bender met Charles Aranguiz's chipped pass on the volley, crashing the ball beyond Guilherme and into the far corner. Verdran Corluka made a goal-saving challenge at the feet of Volland with an hour gone, but Lokomotiv weren't without chances of their own as Hradecky thwarted Eder and Daniil Kulikov. Leverkusen now need to beat Group D winners Juventus in their final game to have any chance of progressing to the Champions League knockout rounds, though they are guaranteed at least Europa League football in the spring.
Match stats
To reach the last 16, Leverkusen must beat Juventus and hope Atletico Madrid, currently a point better off than Bayer and with the superior head-to-head, lose to Lokomotiv.
Lokomotiv and Leverkusen could still finish on six points, but Bayer have a superior head-to-head, having scored in their home loss to the Russians on Matchday 1.
Sven Bender scored his first goal in European competition, on his 53rd appearance.
This game was Leverkusen's 100th in the Champions League, having competed in every stage from group stages to the final at least once.
Three of Leverkusen's goals scored in the competition so far this season have been own goals, while Volland and Bender scoring the other.
Corluka, Benedikt Höwedes and Jefferson Farfan are all former Bundesliga players now plying their trade with Lokomotiv.
Line-ups
Lok. Moscow: Guilherme – Ignatjev, Höwedes, Corluka (c), Rybus – Barinov, Kyrchowiak – Zhemaletdinov (Kulikov 65′), Anton Miranchuk, Aleksei Miranchuk – Eder (Smolov 77′)
Unused subs: Kochenkov, Idowu, Kolomeytsev, Murilo, Kverkvelia
Out: Djordjevic (knee), Farfan (knee), Rotenberg (knee), Mario (toe)
Coach: Yuri Semin
Leverkusen: Hradecky – Retsos, Tah, S. Bender, Wendell – Aranguiz, Demirbay (L. Bender 90′) – Bailey (Baumgartlinger 46′), Bellarabi (Alario 77′), Diaby – Volland (c)
Unused subs: Özcan, Lomb, Dragovic, Paulinho
Out: Amiri (suspended), Havertz (thigh), Pohjanpalo (ankle), Weiser (ankle), Sinkgraven (thigh)
Coach: Peter Bosz
As it happened
90+3′ FULL TIME: LOKOMOTIV 0-2 LEVERKUSEN
They rode their luck and Hradecky preserved their lead at times, but Peter Bosz's men were well worth that three points. It means they have a chance of finishing in the top two still, though they need results to go their way.
90′ TWIN TWINS
This can't have happened very often – two pairs of identical twins on the pitch at the same time as Lars Bender steps off the bench, barking instructions to his teammates and gesticulating feverishly like a Los Angeles traffic police officer in rush hour.
88′ LOKOMOTIV PRESSING
The hosts are – as you might expect – coming on like a train…Miranchuk hits the outside of a post from a tight angle…Leverkusen can't get out of their own final third. But they do have margin for error.
85′ THAT WAS CLOSE…
Smolev looks to the skies in frustration as Barinov's cross flashes across the face of Hradecky's goal just too far out of his reach.
82′ WHERE DOES THIS LEAVE US?
Well, Leverkusen move on to six points and into third place ahead of the meeting between Atletico and Juventus later – Lokomotiv will be bottom. With a better head-to-head record against Lokomotiv, Bosz's men are looking good for third place at least.
81′ HRADECKY AT HIS NEAR POST
The Leverkusen goalkeeper is well positioned when Kulikov nips ahead of Tah to get his head to a Rybus cross. Cue sigh of relief.
79′ LEVERKUSEN LOOKING GOOD
The visitors look firmly in control…that's probably the kiss of death for them, I'm sorry, but it's also true. Having said that, a Lokomotiv goal now would really rattle them.
77′ BELLARABI MAKES WAY…
Alario is on for the Germany international. His pace could hurt Lokomotiv as they push forward looking for a way back into the game.
74′ TAH DOES ENOUGH
Eder bursts forward dangerously, but Tah gets close to him and gets enough on the Portugal international's shot to allow Hradecky to make a comfortable save.
70′ LEVERKUSEN BOSSING IT
Fifty-seven per cent possession, eight attempts at goal, two corners, none at all for Lokomotiv – that's how much on top the visitors have been since the break. This really is a super display from them.
68′ BENDER….NOT THIS TIME
All ball into the Lokomotiv box bounces up off the head of Retsos…Bender flips around and volleys goal wards, but this time it lands on top of the net.
66′ DIABY GETS CRUNCHED
Ignatyev crashes into Diaby…that's yellow…and Corluka then does the same to Volland…deja vu all over again.
64′ LOKO MAKE A CHANGE
Kulikov trots on…can he make a difference? Let's hope not.
59′ CORLUKA SAVES LOKO
The former Tottenham Hotspur man slides in beautifully to deny Volland the chance to sweep the ball in at the near post from Diaby's cross. Leverkusen are looking so good in this second half.
54′ GOAL! LOKOMOTIV 0-2 LEVERKUSEN
Was just about to say Leverkusen were bossing it when Sven Bender pulls that one out of the bag. For the younger readers, Aranguiz chipped it back over the Lokomotiv back four when the hosts had half-cleared a free-kick, and Bender volleyed it across Guilherme and into the far corner. For the older ones out there: Mark Hughes v Oldham, FA Cup semi-final, some time in the Jurassic period. Lovely goal, and Leverkusen have a real chance now.
48′ DEMIRBAY FIRES OVER
The Leverkusen man can't find the target with an early opportunity…
46′ BAILEY OFF, BAUMGARTLINGER ON
The Austria international comes off the bench to beef up the midfield. Bosz looking for his team to be dominant in the centre of the park.
46′ SECOND HALF KICKS OFF
We're back at it and full on in the Russian capital.
45+2′ HALF-TIME: LOKOMOTIV 0-1 LEVERKUSEN
A rough and tumble first-half that Leverkusen will feel should have brought at least another goal, though they also have Hradecky to thank for the fact they're not level or even behind. Chances at both ends, some quality goalkeeping…it's entertaining, but quite nerve-wracking for Leverkusen fans. But so far, so good.
45+1′ COULDA…SHOULDA
Great run down the left by Bailey, cuts it back intelligently for Diaby on the edge of the box…measures a shot goal wards that Guilherme parries, Volland can't fire home the loose ball, he and Bailey then get in each others' way, and Leverkusen are left to rue a chance gone begging.
42′ HÖWEDES IN THE BOOK
The 2014 FIFA World Cup winner finds Moussa Diaby's tight turn and fleet of foot too much to handle, and can't help but trip the summer signing from PSG. 'Name, please,' says the ref.
41′ EDER LETS FLY
Portugal's UEFA EURO 2016 final winner is allowed to stride forward for the first time and lets rip from 25 yards – it's well struck, but Hradecky has it covered. And it's going wide anyway.
39′ OOOOOHHH!!
Bellarabi is desperately close to curling the ball into the far corner with a first time effort that has Guilherme totally wrong footed. Cutely done, would have been a real peach of a goal.
38′ THAT'S WHERE HÖWEDES IS
The former Schalke man tries to divert Zhemaletdinov's header from the corner on target, but it's coming too fast and it balloons over the crossbar.
37′ WENDELL COVER
The Brazilian left-back gets back to stop Miranchuk at the expense of a corner…
33′ GUILHERME HEROICS
Volland plays Bailey in behind the hosts' back line, but Guilherme makes a brave and well-timed dive at his feet to deny him in their one-on-one duel.
30′ HALF-HOUR UP
Hradecky has made one world-class save, Leverkusen have gotten a bit lucky (to say the least), but they're ahead. Which is where they need to be. But there is a long long way to go in this one.
27′ HRADECKY TO THE RESCUE
Anton Miranchuk is denied by the Leverkusen 'keeper, who sticks out a hand to block the Lokomotiv man's effort from close range. It's a fabulous bit of reflex goalkeeping.
24′ LOKO PRESSURE
The home side have the ball and are knocking it around with promise. From this distance, their number 7, Grzegorz Krychowiak, looks like Andrea Pirlo, and the former Sevilla and PSG man is dictating play just as the great Italian did.
21′ BAILEY POPS UP
The Jamaican careers across the pitch from the right and eventually lets fly. Didn't catch it cleanly enough, straight at Guilherme…might have done better.
18′ BRIGHT START
This is such a positive opening to the game from Leverkusen – they've now scored in the first half of their last seven competitive outings, and there could be more to come if they continue like this.
15′ DEMIRBAY SO CLOSE
That was a thing of beauty from Demirbay: a curling free-kick from 25 yards, around the left side of the wall, and Guilherme across very smartly to his right to push it out. Lovely play, Leverkusen so close to a second.
12′ ALL GOOD THINGS…
You had to wait, I'm sorry, but that was a tangled web: the ball dropped, Eder tried to clear (that's what happens when strikers get into their own six-yard box), he miscued it, the ball struck Zhemaletdinov and looped up and beyond Guilherme, who was so close to saving it. Fabulous start for the visitors.
11′ GOAL!! LOKOMOTIV 0-1 LEVERKUSEN
First corner of the game for the visitors…huge scramble in the box…and the ball somehow ends up looping past Guilherme and into the net. Who? What? How? Why? Don't ask me, it's in, and it stands, that's all that counts.
9′ HRADECKY…JUST
Krychowiak fires goalwards and the shot squirms between the hands of Hradecky, who hurries to fall on the loose ball before it crosses the line. Phew!!!
7′ LOKOMOTIV LEAD…NOT
Miranchuk (Aleksei) races through in behind the back four and prods beyond Hradecky, but the flag is up.
5′ ARANGUIZ DOWN
The Chile international is sent tumbling in full flight – there's concern on the face of Peter Bosz, but his midfielder is back up on his feet.
3′ TWIN TERRORS
Anton Miranchuk cuts inside from the left and — fortunately for Leverkusen — miscues his shot. He's the identical twin of Aleksei, who's also on the pitch. I'm just happy this is text commentary, not TV…
2′ GREY DAY?
Let's hope Leverkusen's performance is more colourful than their kit: all grey, top to tail. The hosts are in dark green shirts, bright red shorts and socks.
1′ FIRST HALF KICKS OFF
The champions!!!! rings around the stadium, Volland goes in with Corluka for the coin toss, handshakes all round and we're off…
RETSOS GAMBLE
The Greek has just 68 minutes of competitive football under his belt this season. Moussa Diaby is making his UEFA Champions League debut…it's a bold move by Bosz. Will it pay off?
THE STAKES
Lokomotiv will be unable to finish in the top two if they lose to Leverkusen, or if they draw and Atlético avoid defeat against Juventus. Lokomotiv will be confirmed in third place if they and Atlético both win.
Leverkusen will be unable to finish in the top two if they fail to beat Lokomotiv. Leverkusen will be confirmed in fourth place with defeat.
HAVERTZ: 'BACK STRONGER'
It's a blow to the visitors not to have their star midfielder in the line-up tonight as he continues his comeback from injury: I don't think it will be too much longer. Injuries are always annoying, but it was bound to happen at some point. I stayed injury free for a long time and now it has finally happened. This won't be a setback for me, and luckily it's not a bad injury. It's just a small injury and I will definitely come back stronger.