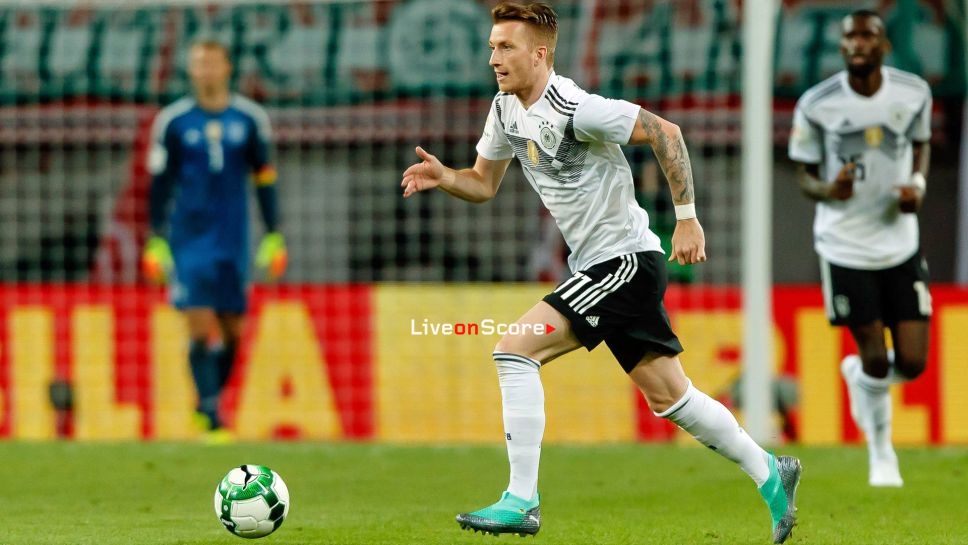 Marco Reus admits he has mixed feelings looking back on Germany's 2014 FIFA World Cup triumph, but is determined to make the most of his chance at Russia 2018 following a tortuous career chapter with injury.
Qatar World Cup 2022 Livestream ⚽ Get 1 Month for FREE
Instant access to the BT Sport, Sky Sports and Eurosport
The 29-year-old is poised to make his first appearance at the finals after a partial ankle ligament tear sustained on the eve of the tournament dashed his hopes of playing in Brazil four years ago. His Borussia Dortmund teammate Mario Götze held aloft a shirt with his name on it after his extra-time goal earned Germany their fourth world title.
I remember it well, Reus said at Germany's pre-tournament media day on Wednesday. It wasn't nice for me not being there, but on the other hand it was great to see the guys lift the trophy.
Now the boot is on the other foot. Reus is in Germany's final squad for Russia; Götze didn't even make the preliminary selection. Manchester City's Leroy Sane, meanwhile, was one of four players to miss the cut when head coach Joachim Löw pruned his squad from 27 to 23 players on 4 June.
I wasn't with the team for two years, so to get that recognition is great, Reus explained. I feel for the players who got left out, but from experience I can say that that's life – life goes on. You get more chances, even here in the national team. I'm very optimistic.
He's had to be. A pubic bone injury denied Reus a place at UEFA EURO 2016, before a knee ligament tear forced him to miss more than half of the 2017/18 campaign. He returned in February, though, scoring seven goals in 11 Bundesliga appearances, and made his first Germany appearance since 29 March 2016 in the friendly defeat to Austria last weekend.
I'm delighted to be here, Reus said. It's every footballer's dream to play at a World Cup, but the tournament is long. Every player will be needed. Hopefully I'll get my chance to play. I want to do my bit to help the team.
As for Germany's prospects of becoming the first team since Brazil in 1962 to successfully defend their title, Reus is – as you'd expect – optimistic.
We're the hunted, the 30-time Germany international acknowledged. Every nation wants to beat the defending champions. That pushes you to give that one or two percent extra. We all want to defend our title. It won't be easy, but you can see in training how hungry everyone is, how high the motivation is to defend the thing. That's our objective.