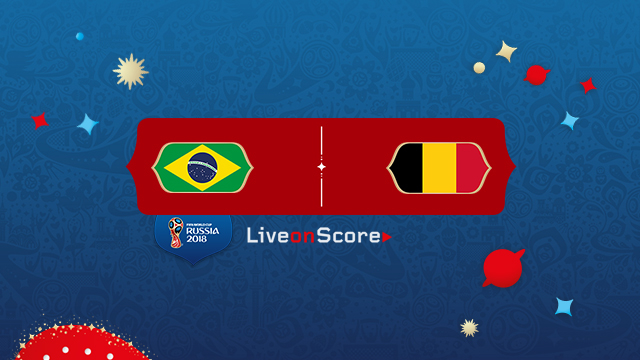 Brazil vs Belgium Preview and Prediction World Cup 2018 Live Stream – 1/4 Finals
LiveonScore News, 8 months ago
2 min

read
Fixture: Brazil vs Belgium
Tournament: World Cup 2018 – Play Offs – 1/4 Finals
Date/Time: 6-th July 22:00 GMT +4
Arena: Kazan Arena (Kazan)
Match Preview :
Brazil vs Belgium match is going to be held on 6-th July at Kazan Arena (Kazan)
Both team have to show us their best skills, combinations, tactics to start group stage successfully.
What we can say about these two team ? Both team is favorite of that tournament
Brazil and Belgium have played each other four times, with Selacao winning three. They met most recently in the 2002 World Cup last-16 stage, which saw Rivaldo and Ronaldo earn a 2-0 win
Brazil play attacking style football, also their defence line looks good their goal balance is (7:1)
bad news for brazil is that they lost Casemiro which injured in last match
Brazil team has many high class footballers but their key player is of course Neymar
Belgium team show us attacking style football and got minimum three goal in a match
Belgium have no injury players their key player is E.Hazard
We waiting high calls football match for these two team such was Frace vs Argentina 4:3
The Favorite Team is Brazil, But Belgium will try to play their best game, win this match and play in semi-final.
Brazil Lines up: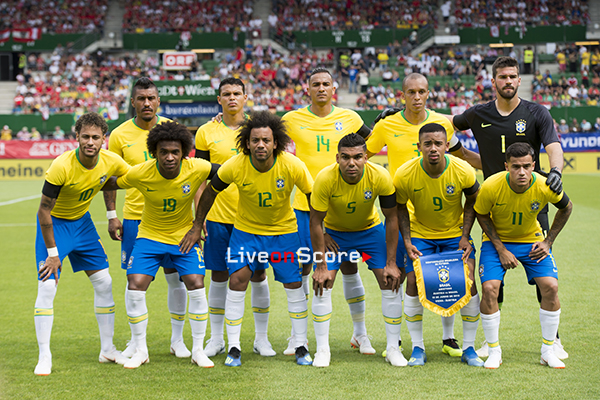 Starting Lineup:
Alisson,Fernandinho, Coutinho, Danilo, G.Jesus, Marcelo, Miranda, Neymar, Paulinho, T.Silva, Willian.
Substitute:
Marquinhos, R.Augusto, Taison, Fagner, R.Firmino, P.Geromel, F.Luis, Ederson, Cassio, Fernandinho.
Coach:
Tite
Belgium Lines up:
Starting Lineup:
T.Alderweireld, D.Boyata, Y.Carrasco, T.Courtois, K.DeBruyne, E.Hazard, R.Lukaku, D.Mertens, T.Meunier, J.Vertonghen, A.Witsel.
Substitute:
M.Batshuayi, K.Casteels, N.Chadli, M.Dembele, L.Dendoncker, M.Fellaini, T.Hazard, A.Januzaj, V.Kompany, S.Mignolet, Y.Tielemans.
Coach:
Roberto Martinez
Last matches: BRAZIL
02.07.18 WC Brazil Mexico 2 : 0
27.06.18 WC Serbia Brazil 0 : 2
22.06.18 WC Brazil Costa Rica 2 : 0
17.06.18 WC Brazil Switzerland 1 : 1
10.06.18 FI Austria Brazil 0 : 3
Last matches: BELGIUM
02.07.18 WC Belgium Japan 3 : 2
28.06.18 WC England Belgium 0 : 1
23.06.18 WC Belgium Tunisia 5 : 2
18.06.18 WC Belgium Panama 3 : 0
11.06.18 FI Belgium Costa Rica 4 : 1
Head-to-head matches: BRAZIL – BELGIUM
17.06.02 WC Brazil Belgium 2 : 0
Brazil vs Belgium – LiveonScore Betting Tips:
1. Brazil win or draw.
2. under 2.5 goal
World Cup 2018 Results

World Cup 2018

World Cup 2018
World Cup 2018


World Cup 2018

World Cup 2018
World Cup 2018

World Cup 2018

World Cup 2018
World Cup 2018
World Cup 2018

World Cup 2018
World Cup 2018
World Cup 2018

World Cup 2018

World Cup 2018

World Cup 2018
World Cup 2018

World Cup 2018
World Cup 2018
World Cup 2018
World Cup 2018

World Cup 2018

World Cup 2018
World Cup 2018

World Cup 2018

World Cup 2018
World Cup 2018

World Cup 2018


World Cup 2018
World Cup 2018

World Cup 2018

World Cup 2018
World Cup 2018
World Cup 2018
World Cup 2018

World Cup 2018
World Cup 2018

World Cup 2018
World Cup 2018


World Cup 2018