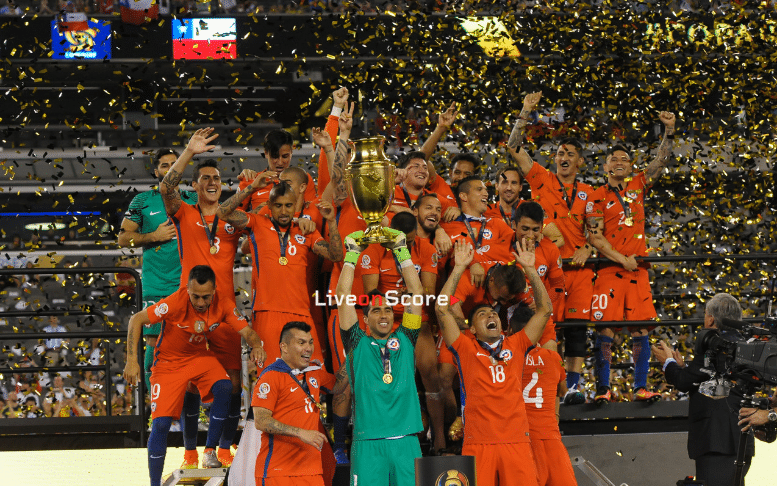 Chile defends the title with 11 of the players who won the Copa America Centenario
LiveonScore News, 1 year ago
2 min

read
From the 23 called, 11 of them were in the Copa América del Centenario de la CONMEBOL won in the United States.
The current two-time American championship, the Chilean national team, will fight for the three-time championship with a very different team from the 2015 CONMEBOL Copa America, played at home, and the CONMEBOL Copa America Centernario, held the following year in the United States. Of the 23 players called up by Colombian coach Reinaldo Rueda, 11 of them competed in the last edition of the tournament.
One of the most important absences is the goalkeeper of the Manchester City, Claudio Bravo, who lost the opportunity to play for his team for most of the season due to a serious Achilles tendon injury. The head of the English team led by Pepe Guardiola was the Brazilian goalkeeper Ederson, called up by Tite to defend his country in the 2019 CONMEBOL Copa América Brazil.
I talked to Claudio and told him I had to find the best time to bring him back. It's not fair to call him as a guest after being captain of the national team for 10 years Rueda said when he announced the list of players.
Johnny Herrera, Francisco Silva and Matías Fernández, the absentees
Another who was in the CONMEBOL Copa América Centenario and was not called by Rueda, was the goalkeeper Johnny Herrera who will debut in one of the television channels of Chile as analyst of the CONMEBOL in the Copa América Brazil 2019.
Marcelo Diaz, Francisco Silva, protagonists in Chile's two titles in 2015 and 2016, this time left their place for other teammates who make up the new sap of this generation, for the tournament in Brazil. Miiko Albornoz, Enzo Roco, Eugênio Mena, Matías Fernández, Jorge Valdívia, Fabián Orellana, Mauricio Pinilla and Edson Puch complete the list of players who competed in the previous edition and will not be in Brazil.