Germany vs Sweden Preview and Prediction Live Stream Russia World Cup 2018
LiveonScore News, 8 months ago
3 min

read
Fixture: Germany vs Sweden
Tournament: World Cup 2018 – Group F
Date/Time: 23-th June 22:00 GMT +4
Arena: Fisht Olympic Stadium (Sochi)
Match Preview :
Germany vs Sweden match is going to be held on 23-th June at Fisht Olympic Stadium (Sochi)
This is first match of world cup 2018 because of that both team have to show us their best skills, combinations, tactics to start group stage successfully.
Germany splendidly concluded the qualification stage to the World Cup and secured themselves a ticket to the final part of the tournament:
The team was the first in their Group and surpassed their rivals by 11 points. No wonder they lost no point since they managed to succeed in all 10 meetings!
Traditionally, Germany show themselves quite good, scoring 43 goals in 10 games of the group stage. If we consider the friendlies, we may see no worse results.
The squad appears to be the favorite in this clash, but they're not going to use half force and let the opponents win.
Sweden team under Jan Anderssen struggled for the place in the 2018 World Cup. Though, they had nice performance in their Group, they still let France overcome them. The outcome was foreseeable as France were obvious favorites.
They were forced to prove their sustainability in play-offs and outscored Italy. That was the time when Anderssen's team let everyone know they really can get someone in trouble.
Qualification period showed the team in a better light, which yielded results. The same tactics they're going to use in the upcoming confrontation with Germany.
The Favorite Team is Germany, But Sweden will try to take minimum one point or win the match.
Germany Lines up: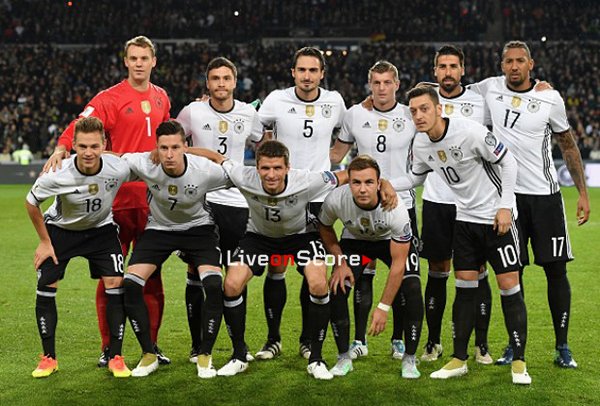 Starting Lineups:
J.Boateng, J.Draxler, M.Hummels, S.Khedira, J.Kimmich, T.Kroos, T.Muller, M.Neuer, M.Ozil, M.Plattenhardt, T.Werner.
Substitutes:
J.Brandt, M.Ginter, M.Gomez, L.Goretzka, I.Gundogan, M.Reus, A.Rudiger, S.Rudy, N.Sule, M.TerStegen, K.Trapp.
Coaches:
Joachim Low
Sweden Lines up: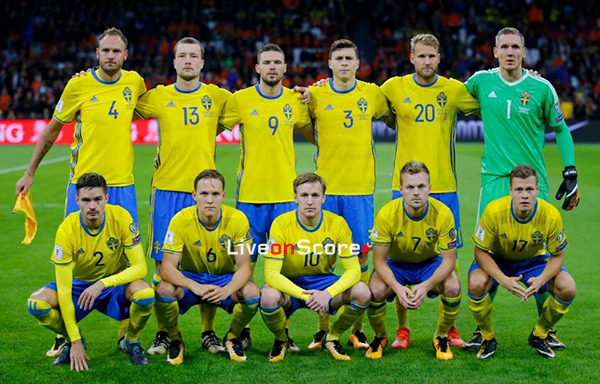 Starting Lineups:
L.Augustinsson, M.Berg, V.Cleasson, A.Ekdal, E.Forsberg, A.Granqvist, P.Jansson, S.Larsson, M.Lustig, R.Olsen, O.Toivonen.
Substitutes:
J.Durmaz, J.Guidetti, F.Helander, O.Hiljemark, K.Johnsson, I.Thelin, E.Krafth, K.Nordfeldt, M.Olsson, M.Rohden, G.Svensson.
Coaches:
J.Andersson
Team Table Position Group F:
Last matches: GERMANY
17.06.18 WC Germany Mexico 0 : 1
08.06.18 FI Germany Saudi Arabia 2 : 1
02.06.18 FI Austria Germany 2 : 1
27.03.18 FI Germany Brazil 0 : 1
23.03.18 FI Germany Spain 1 : 1
Last matches: SWEDEN
18.06.18 WC Sweden South Korea 1 : 0
09.06.18 FI Sweden Peru 0 : 0
02.06.18 FI Sweden Denmark 0 : 0
27.03.18 FI Romania Sweden 1 : 0
24.03.18 FI Sweden Chile 1 : 2
Head-to-head matches: GERMANY – SWEDEN
15.10.13 WC Sweden Germany 3 : 5
16.10.12 WC Germany Sweden 4 : 4
17.11.10 FI Sweden Germany 0 : 0
16.08.06 FI Germany Sweden 3 : 0
24.06.06 WC Germany Sweden 2 : 0
Germany vs Sweden – LiveonScore Betting Tips:
1. Germany win.
2. Both team to Score – Yes
World Cup 2018 Results

World Cup 2018

World Cup 2018
World Cup 2018


World Cup 2018

World Cup 2018
World Cup 2018

World Cup 2018

World Cup 2018
World Cup 2018
World Cup 2018

World Cup 2018
World Cup 2018
World Cup 2018

World Cup 2018

World Cup 2018

World Cup 2018
World Cup 2018

World Cup 2018
World Cup 2018
World Cup 2018
World Cup 2018

World Cup 2018

World Cup 2018
World Cup 2018

World Cup 2018

World Cup 2018
World Cup 2018

World Cup 2018


World Cup 2018
World Cup 2018

World Cup 2018

World Cup 2018
World Cup 2018
World Cup 2018
World Cup 2018

World Cup 2018
World Cup 2018

World Cup 2018
World Cup 2018


World Cup 2018