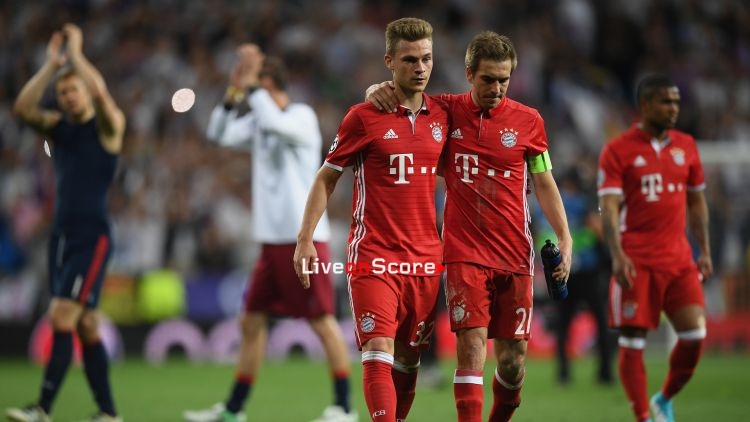 Is Bayern Munich utility man Joshua Kimmich the most versatile player in world football?
LiveonScore, 11 months ago
4 min

read
Map out all the outfield positions Joshua Kimmich has played in for Bayern Munich and Germany and you are very likely to get close to a full XI.
The 23-year-old has played in defence, midfield and helped out in attack in his short career, and taken to each of them like a duck to water. On Friday, he was picked as Germany's central midfield pivot against FIFA World Cup winners France in Munich, a position he retained in the friendly against Peru three days later.
Between those matches, Germany boss Joachim Löw publicly confirmed that, with Sami Khedira not part of the squad and the side looking to start a new era after the 2018 World Cup, Kimmich, who has spent the last year playing at right-back, would be his go-to man for the no.6 position.
It was a vote of confidence and an underlining of Löw's belief in Kimmich's ability not just to fill the position as a stop-gap solution but also to make the position his own. Löw added that his decision on Kimmich was "for the near future" and will likely mean the Bayern man lines up in central midfield for the next set of internationals in October and November, as well as the qualifying campaign for UEFA EURO 2020.
Beyond that is hard to say, but nobody is in any doubt, least of all Löw himself, that Kimmich will be up to the task and see it as another challenge to which he will rise. Indeed, why should he not? Against France, he made the perfect start: "I was very happy with how he interpreted the role," said Löw post-game.
Kimmich's status as one of the game's foremost right-sided defenders cannot be in any question. He is now an undisputed starter for Bayern and Germany who can attack, defend, create and even score goals. As a right back, he has everything, so much so that his predecessor, the legendary Philipp Lahm, has barely been missed.
But let us not forget that when he broke through at Stuttgart, and when he moved to Leipzig in 2013, Kimmich was a central midfielder. He is therefore a midfielder by trade, not a full-back, and while his emergence as one of the best defenders in European football is reflective of his remarkable intelligence in studying and mastering a position, his own upbringing is perhaps the best proof that Löw is justified in moving him back into midfield for Germany.
Neither should it be forgotten how Pep Guardiola used him: as a central defender. Despite his slight frame and size, Kimmich played as an emergency centre back for almost the entirety of the 2015/16 Rückrunde, even retaining his place when the regular defenders returned to fitness, such was the impression he made.
From centre midfield to centre-back to right-back and now back to centre midfield, with cameos on the right of a midfield three or even filling in as an winger in a 4-2-3-1 (both of which came under Carlo Ancelotti), Kimmich has played virtually every position bar centre forward and goalkeeper. Who else in the European game can do this and do it so well?
Lahm was similarly flexible, of course, playing on the left and right of defence and faring so well as a no.6 that Guardiola famously called him "the most intelligent player I have ever coached", but not even he can match Kimmich's versatility.
And in theory, the latter's background as a midfielder should make him an even better no.6 than Lahm. "He has everything you need for the position," says team-mate Mats Hummels, marvelling at Kimmich's consistency. "It feels like you can stick him anywhere on the pitch and he'll produce a performance."
Kimmich has said he doesn't want to be a "Philipp Lahm clone". Unfortunately for him, those comparisons are not likely to disappear any time soon. Kimmich's consistent performances and ability to fill holes almost anywhere only serve to perpetuate the comparison with Germany's 2014 World Cup-winning skipper.
Yet what should make him proud is that he is arguably a more accomplished player now than Lahm was at the same age, and he still has time on his side to prove he can get even better. No matter where he plays, expect Kimmich to be a regular for club and country, and perhaps a future captain, for the next decade.
Football Fixtures
International Champions Cup
International Champions Cup
International Champions Cup


International Champions Cup

International Champions Cup

International Champions Cup
International Champions Cup
International Champions Cup
International Champions Cup


International Champions Cup