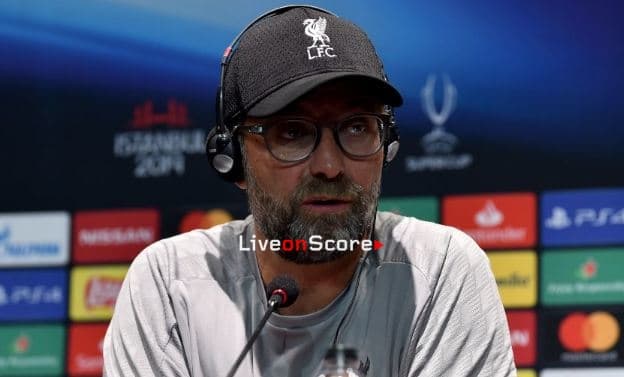 Jürgen Klopp: We want to take trophy chance, but it'll be tough in Istanbul
LiveonScore News, 5 months ago
3 min

read
Jürgen Klopp insists Liverpool are eager to capitalise on 'another chance' for silverware in the 2019 UEFA Super Cup on Wednesday night – but has stressed why any external suggestion his side are favourites against Chelsea is misplaced.
The Reds go head-to-head with Frank Lampard's side at Besiktas Park in Istanbul aiming to clinch the first European trophy of the season.
They do so on the back of a resounding 4-1 victory over Norwich City in their Premier League opener on Friday, while the Blues arrived in Turkey following a 4-0 reversal to Manchester United at Old Trafford.
Nevertheless, Klopp is anticipating a keenly-fought encounter against Chelsea as Liverpool go in search of the fourth Super Cup of their history.
The manager addressed journalists in his pre-match press conference on Tuesday night, during which he tackled a wide range of subjects from the assembled media. Read on for a summary of what he had to say…
On whether winning the Super Cup can have a positive impact on Liverpool's other ambitions this season…
I don't know about the influence of one game on all of the other games, but winning football games always helps. It always helps winning titles; it is what everybody is asking us for, so it helps as well – but it has nothing to do with the start in the Premier League. Our start was absolutely OK. We played a good game against Man City, we gave them a proper game which is difficult enough against them. We could draw the game and lost on penalties and now we won 4-1 against Norwich with a very strong 60 minutes and a less strong last 30 minutes. Now, tomorrow night is a different competition, everything is different, everything is prepared for a final so obviously we have to make sure we are ready for a final. We have to make a few decisions about [the] line-up and stuff like this. It can be kind of a little bit unpredictable for the opponent as well because we don't know how they [will] play, so why should they know how we [will] play, especially in the early stages of the season? We are here, everything is prepared: let's go.
On Liverpool being 'favourites' to win the game in Istanbul…
Actually I didn't know that – that everybody "expects" us to win – so far we could avoid that information, until you told me. It is absolutely no problem for us what people think around us. We know and we respect Chelsea a lot. We saw the game against Manchester United and if you only saw the result then you have no idea how the game was because they played a good game. They've had a few changes, they have a new manager, lost Eden Hazard, brought in Christian Pulisic, brought in all the young boys like [Tammy] Abraham and Mason Mount. They are a really interesting team [with a] good plan. Frank did an outstanding job last year at Derby, he changed the football there – in the Championship with a football-playing side being successful is really difficult, but he did it. They were unlucky in the end against a strong Aston Villa team not to get promoted. Now he is at Chelsea, his club, everything is fresh, everybody will be ready, everybody will be on their toes. This is the first title they can win together, they will be 100 per cent ready – but we have to be ready as well. What people think before the game isn't important – everything that doesn't help you in the game, you have to ignore and that's what we do, actually.
Football Fixtures GMT+4
La Liga
Serie A

Premier League

Premier League

Premier League

Premier League

Premier League

Premier League

Eredivisie


Premier League