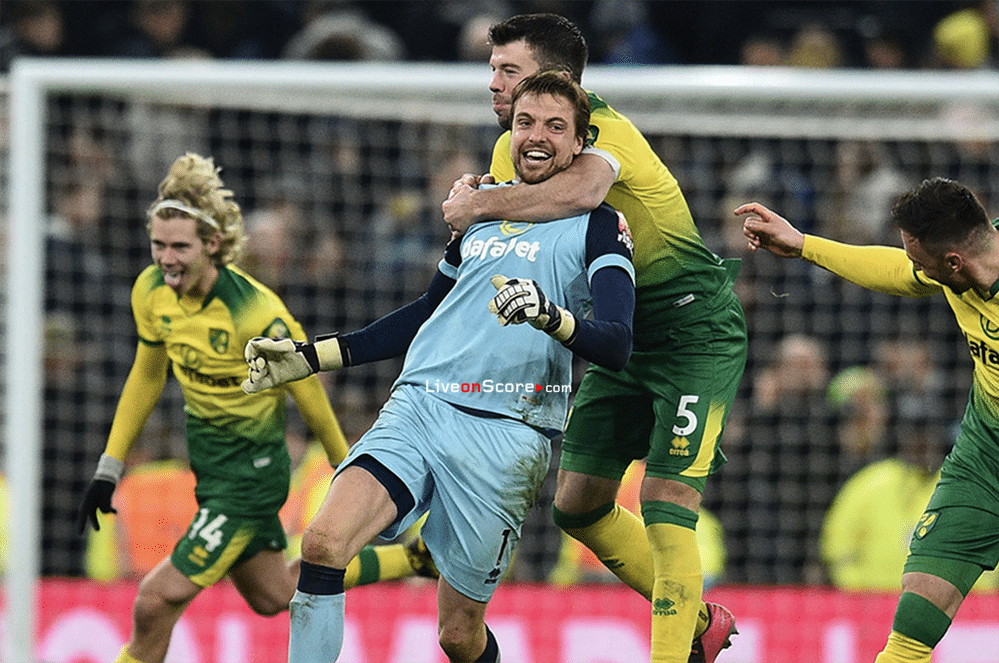 FA Cup victories for Norwich and Leicester on Wednesday mean their MW31 fixtures will be rescheduled
Sports Livestream ⚽ JOIN NOW for FREE
Instant access to the BT Sport, Sky Sports and Eurosport
FA Cup fifth-round victories for Norwich City and Leicester City on Wednesday night mean two more Premier League matches later this month will be rescheduled.
Norwich, who reached the last eight for the first time since 1992 after defeating Tottenham Hotspur on penalties, were due to take on Everton on Saturday 21 March, while Leicester, who beat Birmingham City 1-0, were set to play Brighton & Hove Albion a day later.
However, because the sixth round of the FA Cup will be held on the same weekend those matches will now be rearranged.
Manchester City also reached the quarter-finals with a 1-0 victory at Sheffield Wednesday.
Their match against Chelsea, originally scheduled for 21 March, had already been postponed because of the Blues' victory over Liverpool at Stamford Bridge on Monday.
And FA Cup wins for Newcastle United, Sheffield United and Arsenal will lead to the rescheduling of their league matches against Aston Villa, Manchester United and Southampton.
Man Utd complete the fifth-round schedule when they take on Derby County on Thursday.

Of the 10 originally scheduled fixtures on Matchweek 31, only Spurs v West Ham United, Burnley v Watford, Liverpool v Crystal Palace and Wolverhampton Wanderers v AFC Bournemouth will take place, although the kick-off time of the latter has yet to be confirmed.
The FA Cup quarter-final draw has also been made, with Sheff Utd hosting Arsenal, Man City traveling to Newcastle, Norwich taking on Derby or Man Utd and Leicester playing Chelsea.
FA Cup fifth-round results and fixture
Monday 2 March
Portsmouth 0-2 Arsenal
Tuesday 3 March
Chelsea 2-0 Liverpool
Reading 1-2 (aet) Sheff Utd
West Brom 2-3 Newcastle United
Wednesday 4 March
Leicester City 1-0 Birmingham City
Sheff Wed 0-1 Man City
Spurs 1-1 (aet) Norwich (Norwich win 3-2 on pens)
Thursday 5 March
Derby County v Man Utd
Matchweek 31 fixtures
Friday 20 March
Spurs v West Ham
Saturday 21 March
Burnley v Watford
Liverpool v Crystal Palace
Sunday 22 March
Wolves v AFC Bournemouth
Postponed MW31 fixtures
Chelsea v Man City
Leicester v Brighton
Man Utd v Sheff Utd
Newcastle v Aston Villa
Norwich v Everton
Southampton v Arsenal