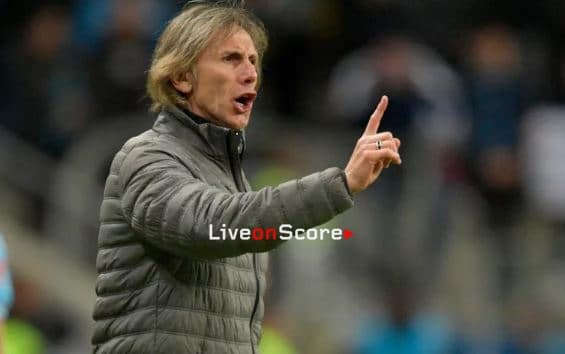 Peru is in a high level to face Brazil in the final-says Gareca
LiveonScore News, 4 months ago
2 min

read
We had to go through hard times in the Cup and now we are in the final", cheerfully added the coach of Peru, the Argentinian Ricardo Gareca, when analyzing the 3-0 over the two-time champion Chile. This victory put the Peruvians in the CONMEBOL Copa America Brazil 2019 Final.
"We had a good performance against a great team, and this victory is important because of the level of the team we played with, the defending champion," Gareca said in a press conference at the Arena do Gremio in Porto Alegre.
"We had to go through hard times in the Cup and we got to the final with our own merits, we knew how to overcome the odds like that defeat against Brazil (0-5), which affect us badly and cultivated a strong movement of criticism," he added.
"We are in a good level to reach this final, however, we will face one of the best teams in the world, this will keep our minds busy all these days thinking about how we are going to face them and how we can win the game" , he added.
– Maracaná Objective –
The first round of Peru in the first phase, came with a 3-1 victory against Bolivia, a 0-0 draw with Venezuela and a 5-0 defeat against Brazil, their opponent in Sunday's final at the Maracana.
In the quarterfinals the Peruvians left Uruguay out of competition in a penalty shootout (5-4) after drawing 0-0 in the 90 minutes.
"Why do we get to the final, because when you come to an instance like this you want to win it, beyond the difficulty of facing Brazil," Gareca said.
"The final has gotten a different shade and our intention, is to win it," remarked the 'Tigre', architect of Peru's qualification to the Russia-2018 World Cup, 36 years after his last participation in Spain-1982.
Continental´s Champion in 1939 and 1975, Peru will play their second final and will do it the first time, in the 103-year history of the tournament, against Brazil, which beat Argentina 2-0 in the first semifinal on Tuesday.
"We are in the permanent seeking of balance, we want to get it. Even though we have faced top-level teams that made us suffer, we are looking for regularity, and I think we are in a level that would make things difficult to other teams that we play with", pointed out Gareca.
Football Fixtures

Uefa Champions League
Uefa Champions League
Uefa Champions League
Uefa Champions League

Uefa Champions League

Uefa Champions League


Uefa Champions League
Uefa Champions League

Uefa Champions League


Uefa Champions League