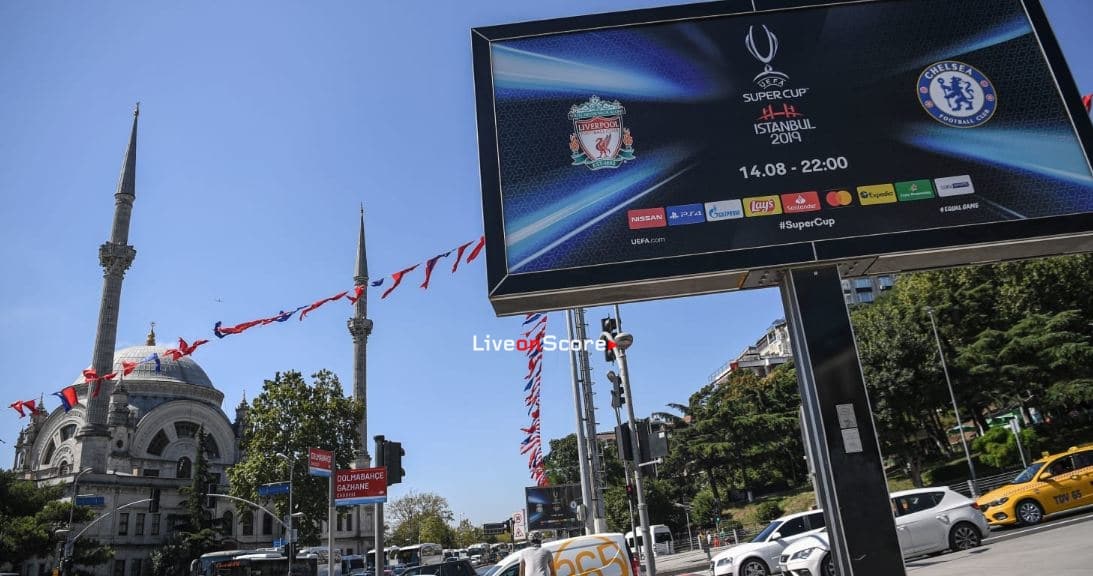 PRE-MATCH BRIEFING: LIVERPOOL V CHELSEA – SUPER CUP
LiveonScore News, 5 months ago
3 min

read
European silverware is at stake on the banks of the Bosphorus. Tonight's Super Cup is an all-English affair, and here club historian Rick Glanvill looks forward to Liverpool vs Chelsea in the city where Europe meets Asia…
TALKING POINTS
This clash of European royalty – Chelsea and Liverpool – will be the 60th meeting between the pair since 2000, making it the most played fixture in all competitions between English sides in the 21st century.
Premier League clubs made history with the clean sweep of participants in UEFA's finals, so it was inevitable this would be the first all-England Super Cup. Chelsea earned a place by humbling local rivals Arsenal 4-1 in the Europa League final, while Liverpool edged Tottenham 2-0 in an underwhelming Champions League denouement.
The showpiece event will also become the highest profile men's game to be refereed by a woman, a development warmly welcomed by head coach Frank Lampard. France's Stephanie Frappart has previously officiated a Ligue 1 game between Amiens and Strasbourg, and in England, of course, referee's assistant Sian Massey-Ellis has run Premier League lines with distinction for more than eight years.
The teams arrive on the banks of the Bosphorus in very different nick after the opening skirmishes of the league campaign. The Reds have had two days extra to digest their Anfield victory over newly promoted Norwich, as well as the loss of their talismanic goalkeeper Alisson.
Their 40-game unbeaten home run is now the best by any Premier League club since Chelsea managed an extraordinary 86 without loss at the Bridge between March 2004 and October 2008.
The Blues' second-half wounds from a somewhat unfortunate 0-4 loss at Old Trafford will obviously be fresher, and Frank Lampard has to factor in that this is not the first time a Chelsea side has suddenly succumbed to a flurry of goals – Bournemouth and Manchester City were examples last season, as were the Cherries (again) and Watford the previous winter.
Even during the campaign that ultimately led to Europa League glory in May (and, as a consequence, tonight's match) Slavia Prague were able to bang three in over 20 mad quarter-final minutes before the Blues prevailed 4-3.
This season was always going to need a rebuild to restore more of the classic Chelsea resilience and key players – N'Golo Kante at the weekend, Willian and Toni Rudiger, perhaps, tonight – are gradually returning to fitness. Lampard will also have taken heart from the way his side ran the game in the first half, and the fresh dynamism of a young team featuring three former Academy starters.
It was a lack of decisiveness in both boxes, he observed, that cost points. The team with the most thumps against the goal-frame last season (15) already top the woodwork list in the 2019/20 Premier League, level with tonight's opponents on two.
Football Fixtures GMT+4
La Liga
Serie A

Premier League

Premier League

Premier League

Premier League

Premier League

Premier League

Eredivisie


Premier League