Recent reports have emerged that Russell Westbrook is keen on staying with the Oklahoma City Thunder for the duration of his current contract as he is "ticked off" about Kevin Durant's decision to leave the squad and join the former NBA Champions Golden State Warriors next season.
Sports Livestream ⚽ JOIN NOW for FREE
Instant access to the BT Sport, Sky Sports and Eurosport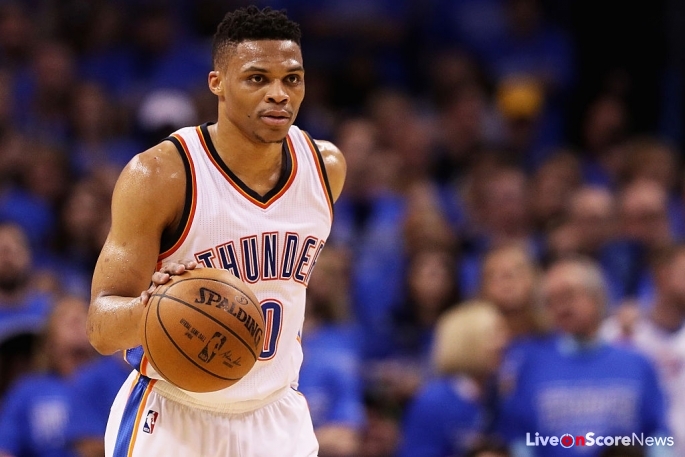 The 27-year-old five-time NBA All-Star is entering the fifth and final season of his five-year, $78.6 million deal with the Thunder, which will make him an unrestricted free agent next summer.
With that scenario, speculations abound that Oklahoma City is looking to trade their prized point guard this offseason for a chance to revamp their roster after Durant's exit and also to maximize Westbrook's value right now rather than possibly losing him for nothing next year.
In effect, the OKC management is facing a choice of potentially losing their top two superstars in a span of two years or trade one of them for perhaps two budding stars of the future.
During the past few weeks, Westbrook was linked to several teams such as the Boston Celtics, Los Angeles Lakers, San Antonio Spurs, Los Angeles Clippers, Washington Wizards, and even the Denver Nuggets to name a few, but Slam Online recently indicated that the two-time NBA All-Star Game MVP "has not told the Thunder that he wants to be traded" and is said to be "up for the challenge of leading the team in Durant's absence".
The report also cited The Oklahoman's Anthony Slater reporting that Westbrook was "ticked off" about Durant leaving OKC and that he is "determined" to face the challenge of leading the team by his lonesome and is "eager" for the new season to commence.
Westbrook still has Steven Adams, Enes Kanter, and Andre Roberson – some of the key players for the Thunder during the West Finals against the Warriors in the recent playoffs – by his side next season. Durant is gone, but wingman Victor Oladipo came in from Orlando to somehow ease the void left by the former league MVP.
With those pieces, OKC can still be a contender in the stacked up Western Conference, although they evidently have little chance of advancing deeper in the postseason this time, which could be fine with Westbrook for the short term.
Still, many NBA analysts believe that there is a strong chance the 2016 All-NBA First Teamer might leave next summer if the Thunder will have a sub-par season in 2016-2017, unless OKC will be able to convince him to sign a contract extension this year.
Slater has a simple suggestion on what OKC could do: "If Westbrook intends to stay long-term, build around him. But if the eyes of this soon-to-be free agent are wandering elsewhere, move him to jumpstart the impending rebuild".