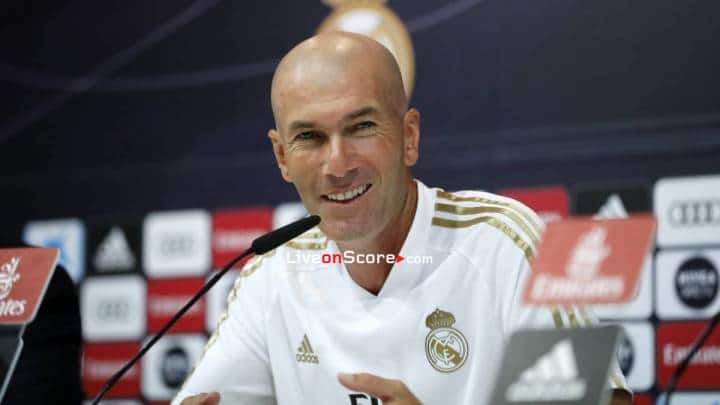 Zidane: "It was a very nice goal, a team goal, and I'm happy for the players".
LiveonScore News, 4 months ago
2 min

read
"LaLiga is difficult and hard-fought and we know that it'll be decided at the end of the season", said the coach.
Zinedine Zidane was satisfied with the win against Espanyol when he spoke in the press room at the RCDE Stadium. On the move that decided the match, the coach said: "I think the most beautiful goal is this one, because it's the most alive and the good thing is that it's a team move. It's a ball from Marcelo to Sergio Ramos, who gets up well with his head, the control by Karim and the back heel. We know that Benzema is capable of coming up with something like that and that's what he did. It's a very nice team goal and I'm happy for all the players. It wasn't an easy game against a team that defended very well with two lines of four but in the end we got the three points".
"Benzema is an impressive player and he proves it in every game. He's been here for 11 years and we all enjoy his quality. A player always improves and every year players get better and that's exactly what's happening to him. He's at a very good age, up to 32-33 years old, if you look after yourself like he does, these are the best years for a footballer. He can still play a lot because he takes care of himself. I'm not surprised by what Karim does. He's a quality player, he's doing well and we're enjoying his football. How long can he go on? I don't know, he'll decide that".
Tough game
"In the first half we had a little trouble getting through. When you look at where Espanyol are in the league with the performance that they put in…We like playing in this league because even against the bottom side they make it difficult for you, that's what happened today. They're a quality team with good players up front and we had to hold our own. On a mental level it's not easy to win 5 matches, at home, away… it's not easy at all. We know that we have to keep going, there are 6 matches left and we now have to rest well and think about the next match".