The recent trade rumors are centered on the Boston Celtics and their pursuit of Blake Griffin and Russell Westbrook.
However, there is also buzz growing in the West. The Sacramento Kings have officially declared that they have the intention to trade Rudy Gay, Ben McLemore and Kosta Koufos, but the speculation still centers on DeMarcus Cousins.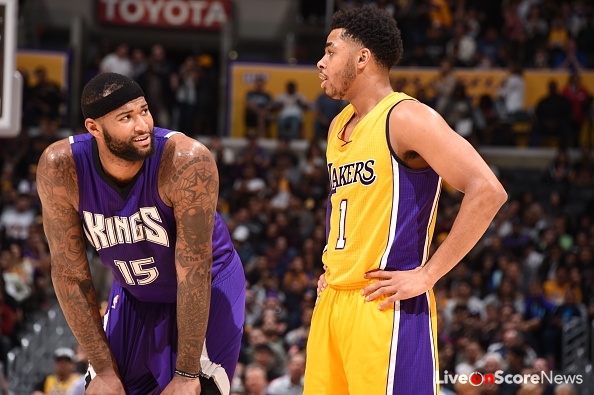 There was recent buzz that the Kings have now reconsidered trading their star center and that their target is a familiar one: D'Angelo Russell of the Los Angeles Lakers.
The talks about the Kings wanting D'Angelo Russell and the Lakers interest for Cousins has been around even before the Ohio State product was drafted last year. There was even speculation that the Lakersm who had a clear need at center and had then-rookie Jordan Clarkson at the point guard spot chose Russell over Jahlil Okafor as a way to acquire Cousins. This is why a trade was predicted at some point.
The deadline has passed and Russell is still a Laker, and Cousins is still with the Kings. After a rocky rookie season, Russell is now thriving, at least in Summer League where he has been handed free rein on the team's playmaking duties. The Big Lead called him the "King of Summer League."
The main rationale for this rumor is that the Kings did not seem pressed to pursue solutions at the point guard spot, though it wasn't entirely their choice. The Kings made offers but not too many free agents are willing to sign with them considering the publicized dysfunction of the franchise.
Also, the Kings decisions in the draft were questionable for most observers. The Kings drafted two centers when they already had three. More talk of Cousins' departure arose.
Apart from ESPN writer Marc Stein's tweet during draft night, there has been no movement on the link between the Kings and Lakers.
Sports Livestream ⚽ JOIN NOW for FREE
Instant access to the BT Sport, Sky Sports and Eurosport