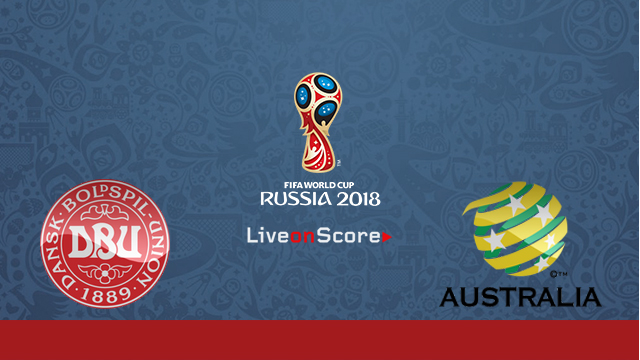 Denmark vs Australia Preview and Prediction Live Stream Russia World Cup 2018
LiveonScore News, 8 months ago
2 min

read
Fixture: Denmark vs Australia
Tournament: World Cup 2018 – Group C
Date/Time: 21-th June 16:00 GMT +4
Arena: Cosmos Arena (Samara)
Match Preview :
Denmark vs Australia match is going to be held on 21-th June at Cosmos Arena (Samara)
This is first match of world cup 2018 because of that both team have to show us their best skills, combinations, tactics to start group stage successfully.
Age Hareide's Denmark could be looking to claim maximum points from their initial Group C encounters, should an opening victory against Peru prove both realistic and attainable. A promising win against the Australians could therefore spell the beginning of a great adventure for Denmark at the 2018 World Cup.
Australia however, could well be fighting for their lives after coming off the back of a predictably tough opener against the French. Anything less than all three points would begin to make life entirely difficult for the Soccers as they look to improve upon their previous fortunes at the 2014 World Cup.
The Favorite Team is Denmark, But Australia will try to take minimum one point or win the match.
Denmark Lines up:
Starting Lineups:
A.Christensen, H.Dalsgaard, T.Delaney, C.Eriksen, N.Jorgensen, S.Kjaer, W.Kvist, J.Larsen, Y.Poulsen, K.Schmeichel, P.Sisto.
Substitutes:
M.Braithwaite, A.Cornelius, K.Dolberg, V.Fischer, Zanka, J.Knudsen, M.Krohn-Dehli, L.Lerager, J.Lossl, F,Ronnow, L.Schone, J.Vestergaard.
Coaches:
A.Hareide
Australia Lines up:
Starting Lineups:
A.Behich, M.Jedinak, R.Kruse, M.Leckie, M.Miligan, A.Mooy, A.Nabbout, J.Risdon, T.Rogich, M.Ryan, T.Sainsbury.
Substitutes:
D.Arzani, T.Cahill, M.Degenek, J.Irvine, B.Jones, T.Juric, M.Jurman, M.Luongo, J.Maclaren, J.Meredith, D.Petratos, D.Vulkovic.
Coaches:
B.van Marwijk
Team Table Position Group C:
Last matches: DENMARK
16.06.18 WC Peru Denmark 0 : 1
09.06.18 FI Denmark Mexico 2 : 0
02.06.18 FI Sweden Denmark 0 : 0
27.03.18 FI Denmark Chile 0 : 0
22.03.18 FI Denmark Panama 1 : 0
Last matches: AUSTRALIA
16.06.18 WC France Australia 2 : 1
09.06.18 FI Hungary Australia 1 : 2
01.06.18 FI Australia Czech Republic 4 : 0
27.03.18 FI Australia Colombia 0 : 0
23.03.18 FI Norway Australia 4 : 1
Head-to-head matches: DENMARK – AUSTRALIA
02.06.12 FI Denmark Australia 2 : 0
01.06.10 FI Australia Denmark 1 : 0
07.02.07 FI Australia Denmark 1 : 3
Denmark vs Australia – LiveonScore Betting Tips:
1. Denmark win or draw.
2. under 2.5 goal
World Cup 2018 Results

World Cup 2018

World Cup 2018
World Cup 2018


World Cup 2018

World Cup 2018
World Cup 2018

World Cup 2018

World Cup 2018
World Cup 2018
World Cup 2018

World Cup 2018
World Cup 2018
World Cup 2018

World Cup 2018

World Cup 2018

World Cup 2018
World Cup 2018

World Cup 2018
World Cup 2018
World Cup 2018
World Cup 2018

World Cup 2018

World Cup 2018
World Cup 2018

World Cup 2018

World Cup 2018
World Cup 2018

World Cup 2018


World Cup 2018
World Cup 2018

World Cup 2018

World Cup 2018
World Cup 2018
World Cup 2018
World Cup 2018

World Cup 2018
World Cup 2018

World Cup 2018
World Cup 2018


World Cup 2018