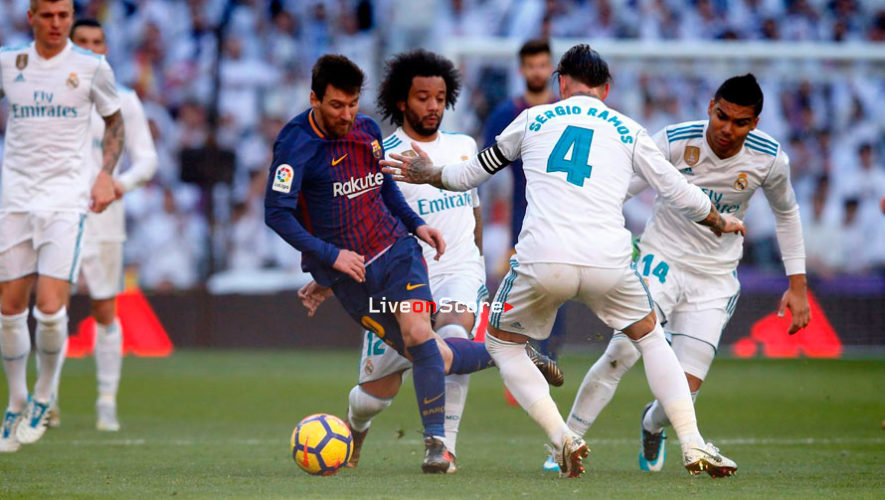 LaLiga's El Clasico among the most cutting-edge televised sporting spectacles of the year
LiveonScore, 4 years ago
4 min

read
This weekend's encounter between Barcelona vs Real Madrid will see LaLiga and broadcast partners Mediapro showcase some of the most advanced and innovative technology in the sports industry for a global audience.
Sports Free Trial 1 Month
Get instant access to the BT Sport, Sky Sports and Eurosport
[event_blocks title="" event="37757″]
May 6's LaLiga El Clasico between Barcelona and Real Madrid at the Camp Nou will be one of 2018's most cutting-edge televised sporting spectacles, on par with other global events such as the NFL Super Bowl in its use of innovative technologies to provide global viewers with the most immersive experience possible.
LaLiga has partnered with a number of the world's leading technology providers to put together a suite of technical tools including True View, 4K-HDR, an aerial camera, Be The Player and Laser Wall, enabling a potential audience of over half a billion TV viewers across 182 countries to feel closer than ever to the action. In addition, an uninterrupted international feed will run from two hours before kick-off until after the final post-match press conference, ensuring that fans across the world won't miss a single second of the action.
"LaLiga is one of the sports competitions with the most supporters in the world but not everyone has the opportunity to come to the stadiums to see the games in person," says Joris Evers, Chief Communications Officer with LaLiga. "So our challenge is to bring those who are far away as close as possible to the action, and we use a lot of technology to do that."
A partnership with Intel allows El Clasico viewers to access 360-degree replays, using the same 'True View' system implemented in the NBA and NFL. On-site technicians take feeds from 38 cameras positioned around the pitch, and then 'stitch' the 2D footage together to provide a multi-angle view of pivotal moments during the 90 minutes.
"It is known as 'volumetric video'," says Melcior Soler, Audiovisual Director at LaLiga. "You can place the camera where you want, not physically but virtually. With that virtual camera, you can have the same exact view as the player before they take a shot on goal."
Following last December's first LaLiga El Clasico of 2017/18, the game will once again be produced by broadcast partners Mediapro in 4K-HDR resolution thanks to 30 different UHD (Ultra High Definition) cameras positioned around the Camp Nou. By contrast, last season's UEFA Champions League final in Cardiff (won by Real Madrid) was filmed by just 10 such UHD cameras.
LaLiga's aerial camera is positioned 21 metres above the pitch which provides unique overhead footage. The images from this state of the art equipment are delivered via a special UHD camera with 14x zoom wide-angle lens, which can also spin and travel at great speeds to cover an area of almost 7,000 m².
"For games such as El Clasico we take special measures – up to 40 cameras in total, including some in helicopters, on cranes and on motorbikes following the team buses as they arrive at the stadiums and 6 SSM (Super Slow Motion) cameras following individual stars such as Lionel Messi and Cristiano Ronaldo throughout the game," says Soler. "We roll out even more technology than they do for the Super Bowl."
LaLiga's Mediacoach suite of cutting-edge match analysis tools and services, developed by Mediapro, will be available to managers Ernesto Valverde and Zinedine Zidane even as the action unfolds during El Clasico. "Mediacoach captures a lot of information and makes it available in near real time to the coaches making decisions in the dugout," Evers says.
Viewers will also be able to make up their own minds about controversial decisions during the game thanks to the Laser Wall, an overlay graphic that displays a virtual straight line to end all arguments about whether a player was offside or not. Live 3D graphics on screen during the broadcast will also enhance the viewers' experience of the game. Another innovative addition by LaLiga and its broadcasters is the 'Be The Player' feature, which Evers says "allows the viewer to get right inside the skin of the player."
This is made possible by servers processing the match footage from 38 5K-resolution cameras installed by Intel allowing LaLiga to zoom in at pitch level and deliver a view of the action from the players' perspective, thus allowing the viewers to place themselves in the midst of the action.
The state of the art technology was used in LaLiga for the first time during December's El Clasico. In all, 4 stadiums are equipped with Intel True View – the Camp Nou, Santiago Bernabéu, Sánchez-Pizjuán and Wanda Metropolitano – with Mestalla and San Mames set to add the technology ahead of next season.
There will also be a first for El Clasico in the audio department with the use of Dolby Atmos. This will see more microphones than ever positioned around the stadium, helping to deliver a 360-degree stadium audio experience for the viewers.
Such technologies ensure that LaLiga fans continue to get the best and most innovative television experience ever seen in world football.