The Sacramento Kings are reportedly putting franchise star DeMarcus Cousins and rotation players Rudy Gay and Ben McLemore on the trading block.
It seems like the Kings are going back to the drawing board and will start to rebuild. Ever since drafting Cousins in the 2010 NBA Draft, the Kings have yet to make the postseason. The team went through six head coaching changes and a shift in management also played as a factor in their struggles. Also, with Rajon Rondo leaving for the Chicago Bulls, this reportedly urged the management to explore trading the three aforementioned players, Sporting News learned.
Sports Livestream ⚽ JOIN NOW for FREE
Instant access to the BT Sport, Sky Sports and Eurosport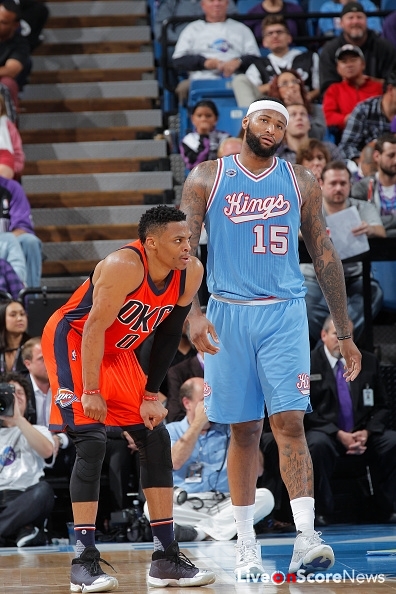 Since the Kings missed this year's playoffs once again, this may force VP of Basketball Operations Vlade Divac to explore his options and see what assets he can potentially acquire by dealing Gay, McLemore and Cousins. The Kings want to get something in return as Gay is likely leaving once he becomes a free agent next season.
Meanwhile, McLemore have yet to prove himself in the league after being drafted 7th in the 2013 NBA Draft. In his first three seasons, the shooting guard from Kansas only managed to post 7.8 points and 2.2 rebounds per ball game. Landing on a new franchise may turn his career around as stated by the publication.
Potential trade partners for the Kings are reportedly the Minnesota Timberwolves, which will center around point guard Ricky Rubio, Hoops Habit reported. Since the T-Wolves drafted Providence point guard Kris Dunn, Rubio is said to be expendable as the former's performance early in the Summer League will likely translate in the NBA. This will give the T-Wolves the trio of Karl-Anthony Towns, Andrew Wiggins and Dunn.
Rubio is said to be a great addition to the Kings, who are currently lacking depth in the point guard position. The team declined the player option on Seth Curry, which leaves them with only Darren Collison as the true point guard in the rotation.
The team managed to acquire Arron Afflalo, Matt Barnes, Garrett Temple and Anthony Tolliver in the off-season. Here is a video suggesting how the team could further improve their roster.