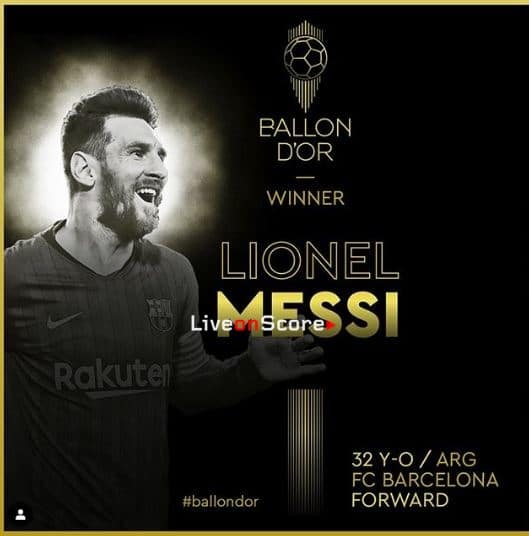 Ballon d'Or 2019 is Lionel Messi
LiveonScore News, 6 months ago
2 min

read
Barcelona and Argentina forward Lionel Messi has won the Men's Ballon d'Or for a sixth time.
Van Dijk on finishing second: "It was amazing. He is pure natural. He is a six time winner so i need to respect that. I hope we can do again what we did with Liverpool and Netherlands last year."
Sadio Mane finished fourth, Cristiano Ronaldo third while Virgil van Dijk came close in second behind Messi.
Modric walks out to hand Messi the award. Here's what he had to say: "I would like to thank the journalists, who voted me to have this prize. Of course, thank you so much to my colleagues both club and country, who have contributed to this amazing prize. 10 years ago I received my first Golden Ball in Paris. I remember that I came with my three brothers. I was 22 years old, it was unthinkable for me. Today, 10 years later, I have to receive the sixth, at a special time with my wife and three children"
Drogba brings out two chairs where he and Messi take a seat and watch a 'Messi montage' along with the audience.
Lionel Messi wins the Ballon d'Or award for the sixth time! He overtakes Ronaldo and sits on top of the perch in the all-time list. 2009, 2010, 2011, 2012, 2015, 2019
Drogba flaunts the envelope which will reveal the Ballon d'or winner. He has a peak at it…
Rapinoe has a pre-recorded video message: "I am sorry I can't make it there tonight It's a bummer. I want to thank my teammates. I know it's going to be insane. i will try my best to get back there next year."
Football Fixtures GMT+4


Bundesliga

Bundesliga
Bundesliga
Bundesliga

Bundesliga

Bundesliga
Bundesliga


Bundesliga
Bundesliga

Bundesliga